About Us
John L. Dalli is a graduate of the University of Massachusetts at Amherst, with a B.A. in Liberal Arts, and an M.S.B.A. in Personnel and Industrial Relations.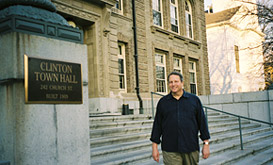 He spent 12 years in management for several companies, specializing in Labor Relations, and worked at a number of locations including New York City, Washington D.C., and Brantford, Ontario.
John and his wife Audrey moved to Worcester, Massachusetts when he became manager of the Central Massachusetts Chapter of the National Electrical Contractors Association.
In 1993, when closed criminal records were made public in Massachusetts, John began doing criminal background checks as a part of pre-employment screening. He continued his education, earning a Certificate in Paralegal Studies from Bentley College in Waltham, Massachusetts. The following year, Worcester Record Search became a full service Public Record Service Provider. In 2006, John earned a Certificate in Professional Investigation from Boston University.
John and his wife, Audrey, are the owners and principal officers of Worcester Record Search, Inc. They employ four other full-time employees.